Use of Artificial Intelligence in Cyber Security
A 30-Sec Summary on AI for Cyber Security
Artificial intelligence is currently the most popular buzzword. Apart from IoT, cloud, big data and every other 'next big thing', a large number of firms are looking for opportunities to enter the AI ​​bandwagon.
AI technology benefits cyber security by detecting threats and also analyzes massive data and enables the development of existing software and systems to lower cyber attacks.
Capzemini recently released an AI-based report on cyber security, which states that 42% of companies surveyed have seen a raise in security incidents via time-sensitive applications. Two of the three organizations have revealed that they plan to adopt AI solutions by 2020.
Artificial Intelligence is beneficial in cyber security since it improves how cyber security professionals study, analyze, and understand cybercrime. AI also expands the cyber security technologies used by organizations to battle cybercriminals and helps protect organizations and clients.
Othe other hand, AI undoubtedly has many resources. This may not be down to earth in all applications. AI serves as a weapon in the arsenal of cybercriminals who use innovation to improve and upgrade their cyber attacks.
There is a big debate right now about whether AI is a positive or negative in terms of its impact on human life as well as businesses. With increasing number of companies using AI for their business process, it is time to analyze the implications of AI implementation in the field of cyber security.
Better to know about What is Artificial Intelligence? And what are the Examples of AI?
In this article, we will be discussing about both the positive and negative uses of Artificial Intelligence for Cyber Security.
Let's Digin!
The Positive Use of AI in Cyber Security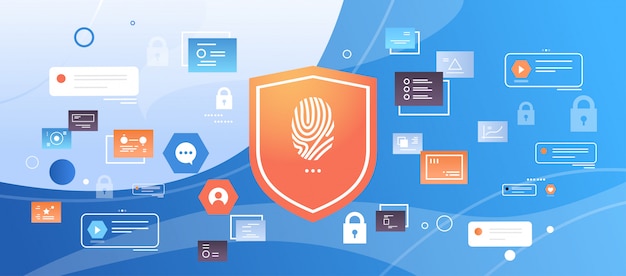 Biometric logins have been using increasingly in offices to make secure logins of employees by scanning their palm prints, retinas and most importantly, fingerprints. It can be used with a password or alone and is being used on 90% smart phones to keep users data safe. Bigger companies are victims of security breaches that compromise personal information, pass codes and email addresses.
Cyber ​​security professionals also have clarified on several occasions that passwords are vulnerable to cyber threats, compromising social security contact, personal data, and credit card details.
AI technology helps in detecting threats and other malicious activity. Traditional systems cannot sustain the absolute number of malware created each month, so it is a potential to enter into Artificial intelligence and solve this issue. Cyber security firms teach AI systems to detect malware and virus using sophisticated algorithms that implement sample identification in AI software.
Systems that are running on AI will unlock the potential for NLP, which automatically gathers information through case studies, articles, and on cyber threats. The collected information provides insight into cyber attacks, prevention strategies, and anomalies. It enables cyber security organizations to update on the latest threats and to develop responsive strategies to protect organizations.
In addition, AI systems can be used in multi-factor authentication situations to give access to their customers. Different users of the organization have diverse levels of authentication powers, depending on where they are accessing the information.
When using AI for cyber security, the authentication framework can be real-time, dynamic and can change access rights based on the user's location and network. Multi-factor authentication gathers the data of user in order to understand this person's behavior and to make decisions about the user's access rights.
In order to use Artificial Intelligence to its full potential, it is crucial that it should be implemented by the appropriate cyber security organizations who know about its performance. In the past, malware attacks could have occurred without giving any indication of what vulnerability had been exploited, and AI protected cyber security companies and their users from attacks, even in the event of multi-skilled attacks.
Now, I hope you got impression about AI and understand that Artificial Intelligence technology can contribute to cyber security.
Also learn about 10 Best Artificial Intelligence Applications
Limitations and Drawbacks of Using AI in Cyber Security
The benefits mentioned only part of the potential of AI in aiding cyber security, but there are some limitations and drawbacks that prevent AI technology from becoming the best technology used in the cyber security field. To develop and manage an AI system, businesses need enormous resources, including data, computer power and memory.
In addition, as AI-based systems are trained enough to learn data sets, cyber security companies should get their hands on different data sets of  anomalies, malware codes, and non-malicious codes. Getting all these efficient data sets takes a lot of time and resources that most firms will not afford.
Cyber attackers will test regularly and improve their malware to make them resistant to Artificial Intelligence-based security devices. Attackers learn from existing AI tools to develop more advanced attacks and attack traditional security systems or even AI-boosted systems.
Coming to next drawback, hackers uses Artificial intelligence to test their malware functionality and strives to improve their malware to become AI-proof. In fact, hackers can also learn from the existing AI tools to improvise their skills and develop more advanced cyber attacks and to create more sophisticated attacks to AI-enhanced systems and also traditional security systems
Fuzzing is a method of testing a massive amount of random input data to identify flaws in the software. Neural fuzzing affects AI to check large amounts of random inputs quickly. However, there is also a constructive side to the mess.
Hackers can also know about the targeted system's weaknesses by collecting data through the power of the neural networks.  Microsoft, a world's biggest tech company, has developed a way to apply this method to improve their software, making it harder to exploit more secure code.
Solutions to Artificial Intelligence Limitations
Firstly, hire a cyber security company who got expertise in different aspects of cyber security..
Make sure that your cyber security team is regular checking your networks and systems for any potential gaps. If they find any, immediately fix them without fail.
Should use filters for URLs to prevent malicious links containing malware or viruses
Install malware scanners and firewalls to avoid attacks of system and update them regularly to match the redesigned malware.
Keep monitoring outgoing traffic of your website and apply exit filters to restrict this type of traffic.
Review the latest security protocols and cyber threats consistently to obtain information on what risks you must first manage and then, develop security protocol.
Perform regular audits of both software and both hardware to find out whether your systems are healthy and working correctly.
Conclusion
Advanced technologies such as machine learning and artificial intelligence are improving security amazingly, while at the same time making it simpler for cyber attackers to enter systems without human intervention. Like a coin has two sides, AI technology also has both pros and cons.
Even the negative impact of AI is increasing in cyber security, we still feel that good outweighs the evil. However, we cannot assume that humans will be able to process all data at high speed and on time, which is essential to keep your data and network secure and secure. It sounds great that Artificial intelligence can do it in a short span, without having to eat, sleep or take a break.
To conclude, the main advice we would like to give you is that you must have the appropriate systems, training and resources to manage and use AI cyber security solutions effectively. It helps you to minimize the risks associated with the usage of AI security tools.
Hopefully, this blog has provided you almost everything you needed to learn about the Artificial Intelligence in Cyber Security.
If you still have any queries, please contact us. We would love to assist you!