Top 7 Use Cases of Computer Vision in Manufacturing
Use Cases of Computer Vision in Manufacturing
Computer Vision has become the most popular and benefited several industries over the past decade, especially in the manufacturing industry. Technology is making a significant impact at every stage of the manufacturing process, from using computer vision in warehouses to modern robotics in R&D labs.
These technological advances in the manufacturing field have helped to reduce production defects, improve product quality, increase flexibility, reduce time and cost, and achieve higher productivity.
Artificial Intelligence, Deep Learning, Machine Learning, Industry 4.0, Cloud Computing, Internet of Things (IoT), and other advanced technologies pose major challenges for users and vision system developers in choosing the ideal system for their respective applications.
In this article, I would like to give you an overview of some of the best uses cases of machine vision in the manufacturing industry.
Computer Vision Use Cases in the Manufacturing Industry
1) Predictive Maintenance


In the worst-case scenario of malfunction of parts or equipment breakdown, and work stops. Any business that relies on physical components should consider maintaining the necessary machinery or equipment. Predictive Maintenance is defined as the process of using machine learning and IoT to assess when asset management is needed. This allows the manufacturer to optimize the lifetime of the equipment and reduce performance.
For example, an industrial supplier manufacturer developed a software program that gathered photos from cameras connected to 7000 robots in 38 smart factory factories. Together with the metadata, this image collection can detect and prevent 72 component failures.
2) Package Inspection



Inspecting goods and quality control are the most important manufacturing activities that should not be ignored. Pharmaceutical firms have trouble counting capsules before packing products in containers. A company based in England has found a solution to this issue. A computer vision-based inspection system has implemented to calculate the number of tablets going in a bottle at the end of production.
If any tablet is found to be defective, the system sends a signal to reject it at the last stage of packaging. The system uses computer vision to investigate whether the tablets are the right color, width, and length. Images are clicked when tablets are switched to the product range and the PC processes these images for further analysis. The main goal is to remove the possibility of transporting defective drugs.
3) Reading Text and Barcodes


Recognizing and reading barcodes and text is not an easy task to do each and every day. To solve this problem, future factories will witness the growth of modernized computer vision systems and industrial automation.
By implementing a computer vision solution, Printed Circuit Boards (PCB) manufacturers can drive the savings of business.
Industries are incorporating Optical Character Recognition (OCR) technology to make real time data in the image machine useful and readable. Hardware or Software vendors are implementing advanced text recognition technologies increasingly such as Optical Mark Recognition (OMR), Intelligent Character Recognition (ICR) and Barcode Recognition (OBR) and other image processing technologies to enhance the functionality of existing computer vision systems.
These activities are described in detail below:
Barcode Recognition (OBR) is used to identify traditional 1D and 2D barcodes for automatically routing components by product line.
Intelligent Character Recognition (ICR) is used to read text from handwritten forms, e.g. Questionnaires.
Optical Character Recognition (OCR) is used to identify text from scanned screenshots or documents.
Optical Mark Recognition (OMR) is used to identify check boxes in forms or surveys.
4) 3D Vision Inspection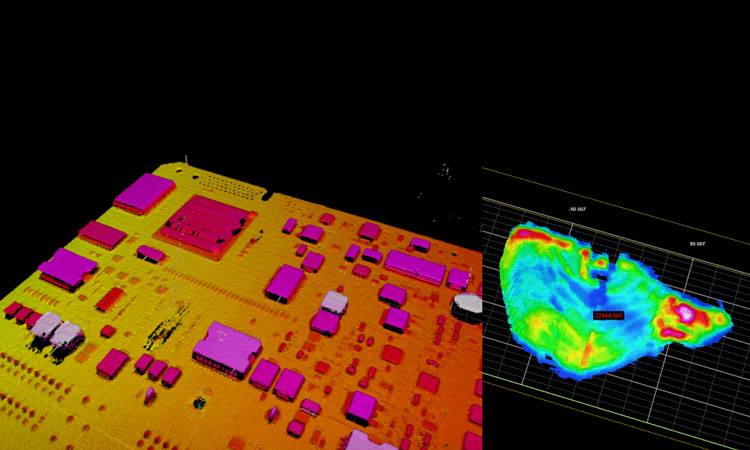 3D machine vision systems usually have several laser displacement sensors or cameras. Multiple-camera 3D vision systems have two or more cameras installed at various locations and provide orientation data to the robot.
A computer vision inspection system was placed on the assembly line to detect very small connector pins. Manual inspectors find it very difficult to locate these small pins. If the defective connector pin goes through the production cycle, it notifies the vehicle owner and manufacturer of the disaster.
5) Product and Components Assembly
Machine Vision solution allows manufacturing factories to ensure that component and product assembly adheres strictly to standards. For instance, pharma drug manufacturers can inspect bottles at 360 degrees to ensure proper packaging. They can also look at other important features of package bottles such as label, cap seal, position, etc.
These strict assessment criteria minimize product recall situations and also enhance productivity. At the end, customers are happier and more satisfied with what they have.
6) Defect Reduction
If you are running the production line, you want to produce flawless components or products! Computer vision is the technology that helps businesses acquires this.
Machine vision inspection systems can depend majorly on implementation, while some need an operator while more complex vision solutions will not require an operator.
A company called Shelton has a surface inspection system named 'WebSpecter', which detects errors and stores pictures and contains image-related metadata. As goods fall into the product line, defects are classified based on their type and assigned an accompanying grade.
By doing this, the manufacturers will be able to distinguish between different types of faults, and then X numbers of Y types want to stop the production line only when faults occur.
Another of Shelton's machine vision-based technologies, known as WebSpecter, which influences state-of-the-art cameras and imaging software, improves fabric manufacturer productivity by 50%.
7) Improving worker safety
Providing better health for workers and keeping a safer environment is a major concern for product manufacturers. But, every 7 seconds, one worker gets injured on the job. This proves that the security measures and safety programs took today are not adequate.
Manufacturing companies need to strengthen their safety programs and provide the best services possible. Computer vision not only helps manufacturing industries to streamline production operations but also provides safety for workers.
Final Words
I hope the above use cases help you got an idea of ​​how computer vision can change the manufacturing industry. The changing face of distribution and manufacturing has led to the emergence of innovative production models and 'smart' products. The future manufacturing factories will have better operational efficiency, better safety and less inventory, and reduced water and energy costs,
If you are planning to take your manufacturing business to another level with Artificial Intelligence and Machine Learning, USM Business Systems is the perfect platform to begin your digital transformation and AI and ML adoption journey.
Please contact us for further details.